What is ESG?
ESG stands for Environmental, Social and Governance. S&B USA's projects are designed for the environment and community and focus on resilience, longevity and climate consciousness. An ESG initiative provides the framework for continuous improvement by analyzing performance beyond financial data. This data often looks at three success-defining areas: impacts on the environment, society and governance. ESG applies to all projects and sits at the core of S&B USA's business strategy.
The environmental criteria focuses on the sourcing and consumption of energy and water, waste and material management, and the company's impact on the living and built environment

Social criteria addresses the company's relationship with people and society, our engagement with communities, diversity in all forms, health, well-being and safety and responsible labor practices

Governance criteria accounts for the responsible, lawful and ethical business practices adopted by the company, our clients and stakeholders

ESG at S&B USA
Here at S&B USA, we strive to...
Create business values for partners and communities

Improve employee satisfaction

Enhance management insights and decision support

Increase efficiency, project quality and technology integration

Demonstrate market leadership

Build stakeholder trust

Meet financial regulations and government standards
ESG in Action
Creative and sustainable project finance

Project scaled for environmental stewardship

Caring for our people and communities

Ethical business practices

Delivery of projects that enhance and improve our environment
Funding and Building a Sustainable Future
Sustainability: Protecting and enhancing existence through economic, social, and environmental balance for us and for the generations to come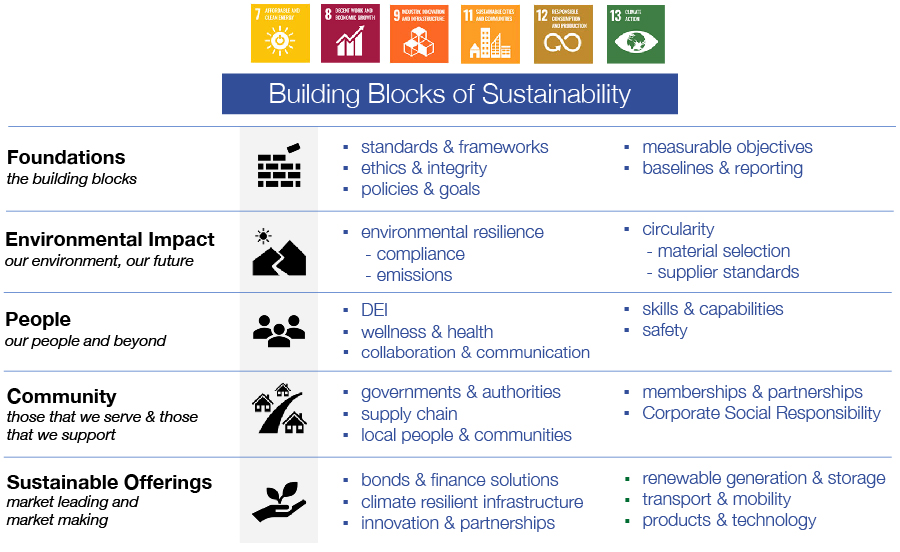 ESG Focused Projects