A Tightly-Knit Community
As a family of companies, we understand the value of community. Community is about people; it's about feeling comfortable enough with your peers to trust them to have your back.
While S&B USA values the community of employees at our core, we also value the community that creates our marketplace. Without the thousands of commuters who need the innovative structure solutions we specialize in, our company wouldn't exist.
That's why S&B USA is adamant about giving back to our community—thank you for trusting us to have your backs.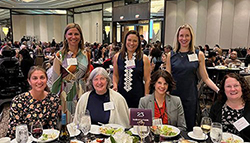 A Circle of Hope
Mulberry Public Affairs invited S&B USA to attend the 2022 "Circle of Hope"—an event sponsored by PA Women Work that is dedicated to raising money to support job-seeking women in need.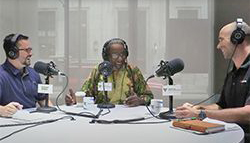 The Dirt Podcast
Grant Ervin, Director of ESG and Innovation for S&B USA moderates a podcast for Pittsburgh Earth Day that brings awareness to various Pittsburgh-related environmental concerns.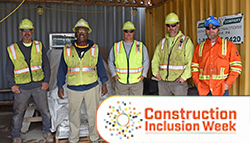 Construction Inclusion Week
For Construction Inclusion Week (October 17–21), we showcased our diverse group of talent for the themes of commitment, accountability, belonging, supplier diversity, workplace culture and community engagement.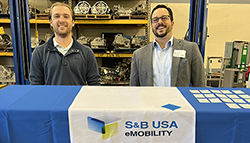 Odyssey Day
S&B USA participated in Odyssey Day, an outreach and education event designed to promote alternative fuels and advanced technology vehicles. We promoted our newest branch, S&B USA eMobility, and the EV charging infrastructure that we offer.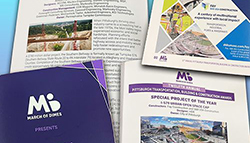 March of the Dimes
Fay recently sponsored the 2022 annual March of Dimes Pittsburgh Transportation, Building and Construction Awards luncheon. March of Dimes leads the fight for the health of all moms and babies—they make the future brighter for all of us.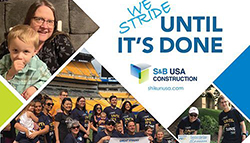 Cystic Fibrosis Foundation's Great Strides
S&B USA sponsored the Cystic Fibrosis Foundation's Great Strides event to raise funds to find a cure for cystic fibrosis, as it impacts our employee's families.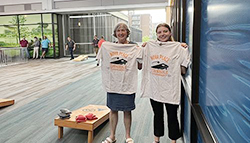 National Intern Day
S&B USA Construction's Marketing team celebrated their intern, Emily Phelps, by participating in the Nova Place Cornhole Tournament! Employee wellness and taking breaks to have fun is very important to keeping our employees focused on the job.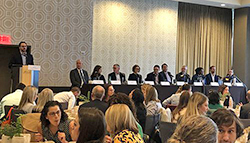 Pittsburgh Earth Day
In 2022, S&B USA joined other local businesses to sponsor Pittsburgh Earth Day. This event featured a panel of Pittsburgh's head executives and leaders discussing the current climate of green industries in our region over a Sustainable Business Breakfast at the Fairmont Pittsburgh Hotel.