It was a pleasure to work with you and your team, S&B USA, on TxDOT's SH288 Toll Lanes P3 project. S&B USA was always a partner in helping the state of Texas reach its goal of having better traffic flow on the 3rd most congested highway in Texas, increasing revenue to the state from tolling, and providing better access to the Texas Medical Center, the largest medical center in the world.
-Ba L Trinh, P.E. CPM PCPE, TxDOT
Financing
This project was one of the largest P3s in the United States to reach financial close within the past five years. To finance it, S&B USA Concessions split the debt between a TIFIA loan (55%) and tax-exempt Private Equity Bonds (PAB, 45%). Additional funding was secured through equity and public subsidy, which will be recovered through tolls. S&B USA Concessions holds 21.6% of the total equity for the SH 288 project.
Construction
The Almeda-Genoa Contractors—of which S&B USA Construction held 50%—were responsible for the construction portion of this project. In total, the team built 53 bridges, including 18 new high-level directional flyovers up to 7,000 ft in length (utilizing innovative accelerated bridge construction), 22 new overpass bridges and performed 13 bridge widenings. Furthermore, we reconstructed two major four-level interchanges and created two additional three-level direct connectors—all of which were built in a suburban environment. The interchanges contain long-span, post-tensioned straddle bents and sharply-curved, girder bridges. The total area for the new bridge deck is approximately 1,800,000 sf.
This project also included 19 new toll gantries and 21 new overhead sign structures. The ITS infrastructure for those toll lanes is home to a state-of-the-art all-electronic toll collection system that utilizes time of day congestion pricing to set variable toll rates. To expedite project delivery, S&B USA Construction, as part of the integrated DBJV, divided the project into four segments that were worked on simultaneously.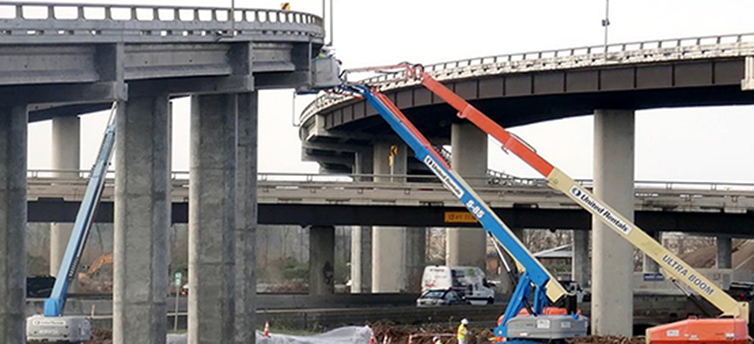 Operations & Maintenance
The work S&B USA did on SH 288 was part of a 52-year DBFOM project with toll revenue risk that was retained by the concessionaire and TxDOT. The operations and maintenance (O&M) phase commenced in 2020 and is self-performed by the developer, which includes S&B USA Concessions.
S&B USA Concessions—as a part of BTG—is in charge of all O&M activities through the full life cycle of the SH 288 concession agreement. This includes the development and integration of a new tolling system, which has the ability to interface with many different tolling systems, including EZTAG, EZTAG Express, TxTag, BANCPASS, NTTA, KTAG and PIKEPASS. Furthermore, routine preventative maintenance of all renewal and rehabilitation items is completed in accordance with the handback requirements of the project.