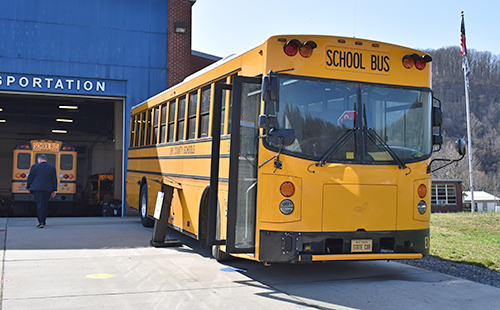 S&B USA eMobility, along with GreenPower, held a press conference to announce round four of their pilot program for all-electric school buses in West Virginia.
Pittsburgh, PA – S&B USA eMobility is teaming with GreenPower Motor Company to provide project financing, charging infrastructure and electric fleet operations software for round four of their pilot program for all-electric school buses in West Virginia.

Three of GreenPower's Type D BEAST all-electric school buses will be deployed in Mineral, Lewis and Harrison school districts, while Upshur County will deploy GreenPower's Type A Nano BEAST, a smaller van-sized bus.

This round consists of an eight-week trial that will continue to evaluate the performance of the buses on rural roads, in mountainous conditions and in cooler temperatures. The pilot program will also continue to assess charging options by including systems provided by S&B USA eMobility and Francis Energy.

S&B USA eMobility and our charging infrastructure partner Francis Energy will supply state-of-the-art Level 2 chargers to fill the charging needs of these pilot vehicles. These chargers provide charging rates similar to low power DC Fast Charge infrastructure but at a much-reduced price. The chargers come packaged with S&B's EV-focused operations management software that allows fleet managers to remotely troubleshoot, manage, and operate their vehicles & chargers.

"S&B USA eMobility is excited to be a part of the GreenPower team," stated Haggai Dror, Managing Director of S&B USA eMobility. "We pride ourselves in working with the most advanced technology partners in e-mobility to protect and achieve economic, social and environmental balance for us and for the generations to come."

The pilot began at the beginning of the 2022-2023 school year in six school districts throughout West Virginia. This fourth round adds two additional school districts, bringing the total number to eight districts. One district has already placed an order for BEAST buses based on its successful operations in their pilot.

About S&B USA eMobility
S&B eMobility, part of S&B USA, is a dedicated partner and a one-stop-shop for complex transitions into zero-emission transportation. S&B USA capitalizes on its unique know-how, which includes infrastructure construction, developing and operating a +4GW energy asset portfolio, and managing and constructing a variety of mega projects around the globe. S&B USA has been active in the U.S. since 2012 and is headquartered in Pittsburgh, PA through its subsidiaries - S&B eMobility, S&B USA and S&B USA Construction.