Financing
This project was a full revenue risk P3, meaning the primary source of revenue isn't coming from the owner of the project—instead, it's largely paid directly by the highway's customers through tolls. Shikun & Binui is the controlling shareholder (with 46% of shares and 51% of the voting rights) of the project-specific Lead Operator and Tolling Company and has been facilitating technical and personnel support from its subsidiaries and controlled entities for this project. The financing for this project, like other revenue risks, is based on a projected toll revenue stream that is sufficient enough to cover operating and maintenance costs, while having enough left over to make debt service payments.
Construction
Shikun & Binui was responsible for 50% of the design and construction. This project's construction involved major excavation, pavement and bridge work on a scale Israel had not previously seen, including the construction of one of Israel's largest and most complex bridges.
The project included two western and two eastern tunnels (3.7 miles total with each pair carrying four lanes), a 1,400 ft bridge with connecting ramps to a midway interchange, and two additional interchanges at each project terminus.
Other project components that this 4.5-mile urban, free-flow toll facility includes:
Three interchanges
A system of seven bridges
Supporting and retaining walls
Intelligent transportation system and electronic toll collection system infrastructure, equipment, and facilities
This project was the winner of the 2011 Association of National Builders competition for excellence in construction and infrastructure in the "Super Infrastructure" category.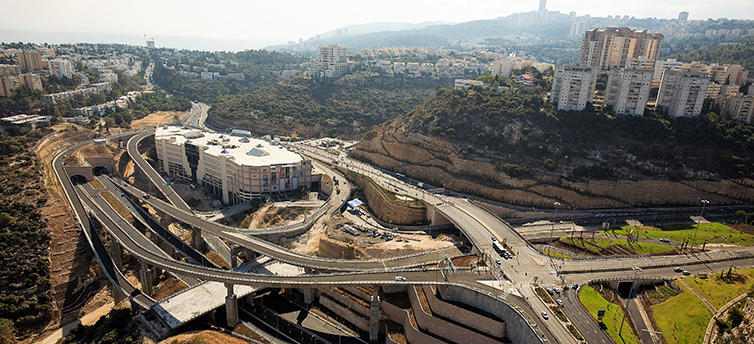 Operations & Maintenance
Shikun & Binui (35.5% ownership) has been responsible for performing all aspects of maintenance and renewal inspection since late 2010, including repairs and maintenance of the tunnels, their associated structures, and systems. We have also been in charge of providing a state-of-the-art operations package for this infrastructure asset. The Carmel Tunnels are using cutting-edge technological systems for traffic management that include: (1) 100% CCTV visual coverage; (2) Automatic Incident Detection (AID) system; (3) Fire detection systems; and (4) Automated electronic response for different emergency scenarios and more. An integrated 24/7 Control Center manages the real-time operations of the project. Patrol units (operating 24/7) also provide incident management and roadside assistance to users free of charge.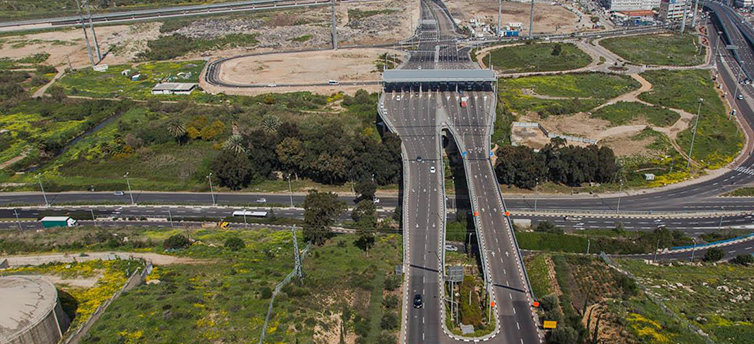 Overcoming Challenges
Maintenance of traffic (MOT) was one of the project's most significant challenges due to the its proximity to residential areas, Haifa Bay, business parks and shopping malls, and its connection to the existing local street network. The following were used to mitigate the MOT issues and keep traffic flowing:
A detailed Temporary Traffic Arrangement Plan to manage public safety while providing much-needed capacity improvements in a safe and expeditious manner
Reduction of as many road closures as possible, which was well below the maximum number the contract allowed
Efficient use of temporary and permanent motorist information alerting drivers of detours, lane closures, traffic shifts, and other traffic-related information
Reduction of impacts to the public by working at night