Finance
Shikun & Binui Ltd. was a major equity member (with 33.3% participation) and developer for the Cross Israel Highway. They led all financing efforts, including the development of a successful financial model, which included equity and debt in the form of long-term bank debt and investment grade project bonds. Shikun & Binui also monetized future dividends generated by the central section to optimize the financial structure on the extension, applied synergies between the two projects to optimize the bid from an O&M developer cost point of view, and increased participation in the building of the extension. Shikun & Binui has invested, in recent years, over $185 million to implement improvements in road systems, billing, tolling systems, expansions (lane additions) and preventative maintenance works.
Construction
The $1.2 billion comprehensive project included design and construction of a new 87-mile tolled highway to connect peripheral residential areas across Israel with its central region. It also serves as a main north-south transportation corridor. The facility is a free-flow tolled, limited access "greenfield" highway project procured under a 30-year DBFOM contract with the State of Israel. The facility encompasses approximately 560 lane miles of road, 14 interchanges, over 150 bridges, numerous culverts and overhead signs, among other things. Additionally, the road has two tunnels of over 1,000 ft in length. Design, construction and financing of the Northern Extension was structured as an addendum to the original concession contract.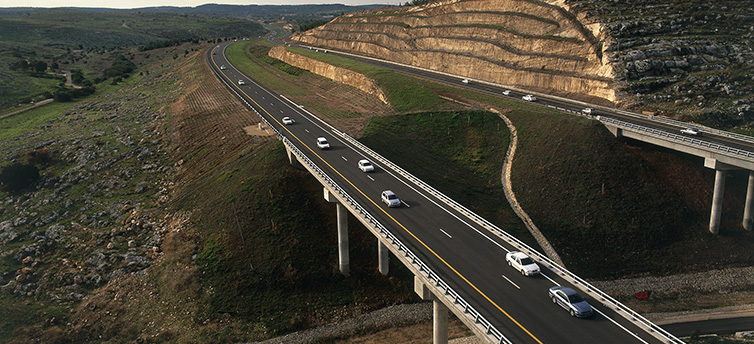 Operations & Maintenance
Shikun & Binui is currently and will continue operating this asset for a total of 30 years. Full service commencement was achieved on April 2004 (Central Section) and July 2009 (Northern Extension). As part of their O&M services, Shikun & Binui installed advanced control systems along the highway, and cameras are used to help locate all impediments in real time and allow for timely repairs and/or removals as warranted. The highway also has one operations and control center, which is manned around the clock, 365 days a year—it coordinates all information relating to safety and uninterrupted travel along the road. Work such as bridge-erosion treatment, lighting and road structure repairs are handled in-house by specialized teams. Additionally, unmanned drone inspection, energy efficient LED roadway lighting and atomic clock lighting controls were introduced to make condition assessment safer, quicker and more precise, as well as to reduce electric consumption.
Here are some of the O&M services Shikun & Binui offers on the Cross Israel Highway:
Asset inspection
Corridor management
ITS and ETCS maintenance and upgrades
Pavement surface treatments and pavement failure repairs
Drainage cleaning and repair
Structure cleaning, maintenance, and defect repairs
Pavement marking and guardrail and safety barrier repair
Roadside maintenance
Maintenance of lighting, signs, fences, and walls